Hey Teen Witch fans, if you love this movie you know you love the Soundtrack. It is a "shame, shame shame, things will always change".

That is right Tom and Larry Weir both recorded brand new recordings from the original songs, now available on itunes. To make a quick easy buck from us Teen Witch fans they cut out Cindy Valentines Voice, which was a big huge mistake.

Infact Larry Weir does not wish to pay Cindy royalites for her music. She has no idea why, instead of legal battles Cindy will be re-releasing her songs for fans. Stay tuned for updates.
Promo Photo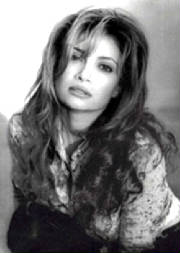 Cindy Valentine
All of you know the concert in the movie, Shana rocks right? Well this pretend artist for the movie is actually an artist. Her name is Valentine Cinzia Leone aka Cindy Valentine.

She was born in Italy in 1975 and raised in Canada. She attended the Royal Conservatory Of Music in Toronto. She released two solo albums, one hard-rock in the early 1980's and one pop-dance in the late 1980's. She is also a songwriter for other artists, a filmmaker, and an actress.

Cindy worked with the Weir brothers in 1987 recording "Never Gonna Be", and "Finest Hour" for background music. Surprisingly the tracks remain a big hit even today, especially Valentines wonderful voice along with the cast made this movie a legend.